Over the last year and a half, much of the conventional wisdom on how to do business has been flipped upside down. Remote work is more of the standard than the exception, the demand for digital skyrocketed, and consumers hold businesses accountable for social good like never before.
As the pace of change continues to accelerate, the way we think about growing a business also needs to evolve. Growth can no longer be thought of as a destination to be reached—it should be a journey focused on building stronger, more resilient businesses.
The "growth flywheel" is both a mindset and a model that can be followed. It is a cycle, with each phase feeding into the next. It keeps customers at the center, while encompassing all aspects of sales, marketing, and service.
As a flywheel, it spins faster the more you repeat it. The process becomes easier, more efficient, and requires fewer resources as greater velocity is created. It's also much more than driving revenue—it's about becoming a leaner business that invests back into the company and employees over time.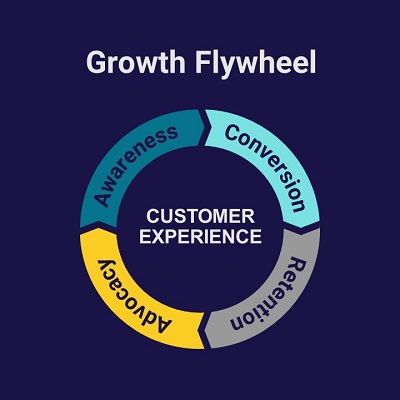 The growth flywheel has four phases that span awareness, conversion, retention, and advocacy. Here are the phases and how to create greater velocity moving through them:
1. Raise brand awareness 
The first phase focuses on how an independent agency attracts customers.
In today's internet-connected world, customers have direct access to an incredible amount of information. While word of mouth will always be essential, it can no longer be the cornerstone of awareness. Agencies should be thinking bigger picture about their brand. How do potential clients find out about your agency? How do they experience your brand before reaching out? What are the values you're conveying to them?
Brand awareness includes everything from your website to online reviews, community involvement to social media presence. It's about making your agency easy to find and earning the attention of customers, not forcing it.
2. Convert prospects
Once you've gained the attention of a potential customer, the second phase is about how you build consideration and convert a sale.
Just as you can't force attention, conversion is something that should happen on the customer's timeline and in ways that are most compelling for them. It's more about conversation and connection than landing new business.
Marketing automation is a powerful and efficient way to engage prospects. Use it to highlight self-serve capabilities that consumers crave, glowing customer reviews and content that speaks to their specific insurance needs. Convince prospects they're making the right decision in choosing you.
3. Retain customers
It will always be cheaper and easier to keep a customer than gain a new one. Yet retention is a strategy that agencies sometimes don't prioritize the way they should.
Your customers need to feel just as important a year in as they did during the conversion phase, whether or not they are experiencing a claim. It's also important to remember that not all customers want to interact in the same way. Be sure to provide a variety of channels to engage as they want, such as a texting, chatbots, and self-service portals.
A comprehensive onboarding program, annual policy reviews, and email newsletters highlighting your agency's people and ways you support your community are all excellent ways of proactively supporting retention.
4. Create advocates
Once you've created happy customers through strategic retention efforts, turn those customers into your biggest advocates.
Directly asking for online reviews is one key step but building a broader advocacy strategy will help move the needle even further. The best referral programs, many of which incorporate nonprofit donations, give customers a tangible reason to advocate on your behalf with friends, family and coworkers.
Once you've created advocates, they help spread the word about your agency to a new set of potential customers and the flywheel starts over—repeating again and spinning faster.
Creating Velocity Through a Growth Mindset
The most important element of the growth flywheel is its focus on creating repeatable processes. It doesn't stop at the bottom of the marketing funnel. Instead, it helps agencies create a perpetual loop that continues long after a sale is made.
And you don't have to tackle overwhelming goals from day one. Creating velocity in the growth flywheel is about testing and growing, starting small and building over time.
Embracing the growth flywheel model and mindset will help your agency grow effectively, keep pace with customer expectations, and help your team evolve alongside the business.
This article was originally published on iamagazine.com.